Like many out-of-town anglers, I spend what little time I have in Branson at Lake Taneycomo chasing large brown and rainbow trout. In recent years, I have noticed several "bonus species" finding their way into my net while targeting big trout, adding extra fun to the trip and variety to the skillet.
Looking back on my "bonus" fish, it was clear that nighttime wade fishing produced the most surprises. Darkness helps combat the clear water that steer wary fish away from the bait. Line color and weight play less of a role when it comes to those picky trout. Even if the floodgates are open, there are still a few areas for wade fishing around outlet one and down the shoreline.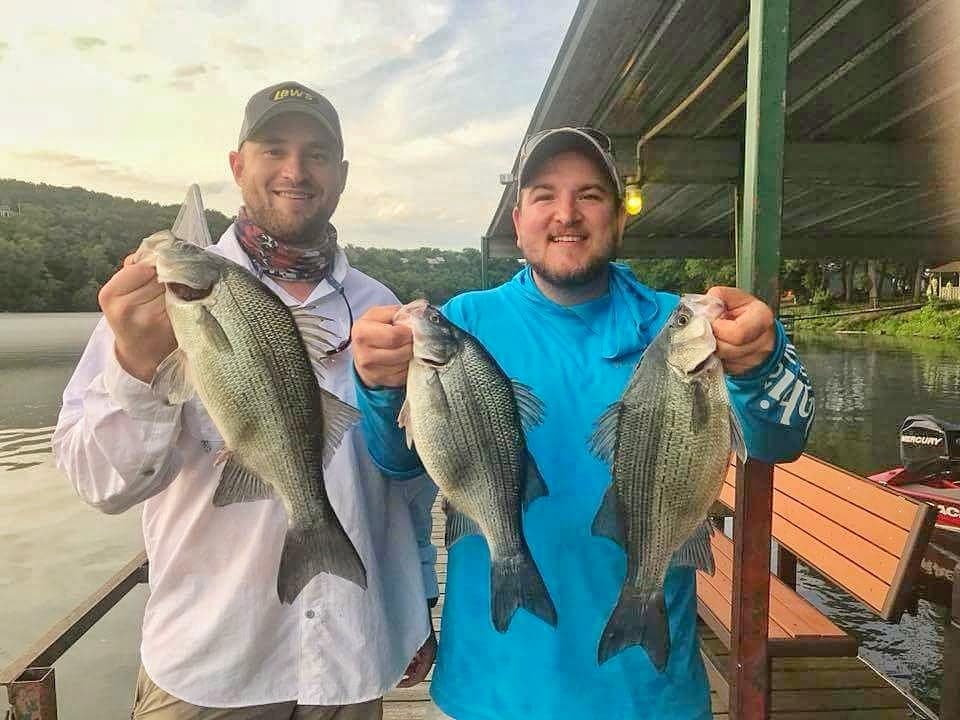 Open floodgates cause countless species of fish to come through the dam into Lake Taneycomo. This turns the Trophy Area into a mystery box. Schools of smallmouth and spotted bass stack up in deeper water. Walleye and white bass will find their way into eddies and shallow water. On occasion, I have also seen spoonbill and catfish cruising the bottom with visible scars from their journey through the dam as well. 
Along with the game species, shad will usually pour through the floodgates, too. If the shad are coming through, an all white jig or fly is my bait of choice.
Due to record breaking floods in recent years, the corps. of engineers now releases more water on a consistent basis. The water has rarely been completely off in the last year as a precaution against any sudden water elevation increase on Table Rock. While this is not ideal for casting a dry fly on Tanyecomo, it does open new opportunities to catch the many different species coming into the lake.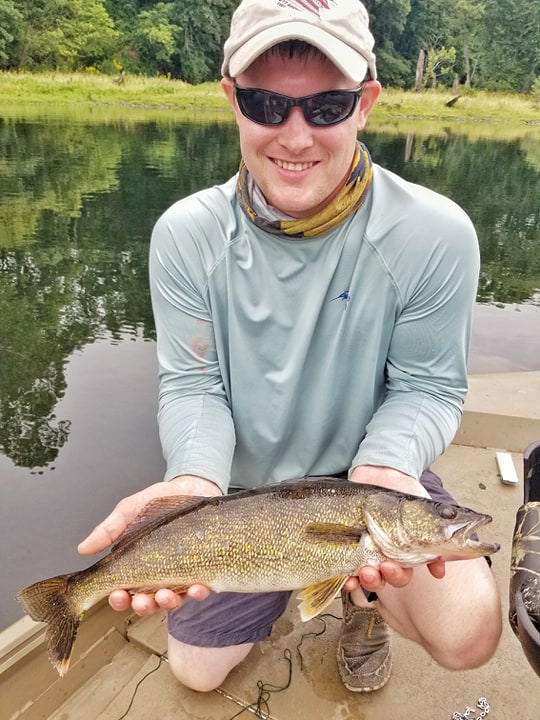 Over the last three years of night fishing the dam, I have seen schools of white bass hammer Dub Leeches, smallmouth and spotted bass nail Lilleys' marabou jigs, and hooked into several walleye. The Dub Leech on a fly rod can be deadly at night. I typically drag it slowly across the bottom. Trout will literally suck it up as it bounces off the rocks. This method allows you to target browns and rainbows, as well as keep your bait in the strike zone for walleye.
With ambient light from the dam and a constant food source from the outlets, there's a chance you'll hook into a few goggle eyes cruising the shallows as well.
Early February 2020 produced two 16-18 inch Walleye while wade fishing outlet one of the Trophy Area. I prefer Duane Doty's Signature Series jerk baits, but RC's in Pearl White have worked well for me, too. The slower you retrieve the bait, the more likely you will trigger a bite. If you shine your head lamp up the bank, you can sometimes see their glowing eyes near exposed roots. This creates an exciting aspect to night fishing. You can cast to the glowing eyes at night just as you would a rising trout in daytime.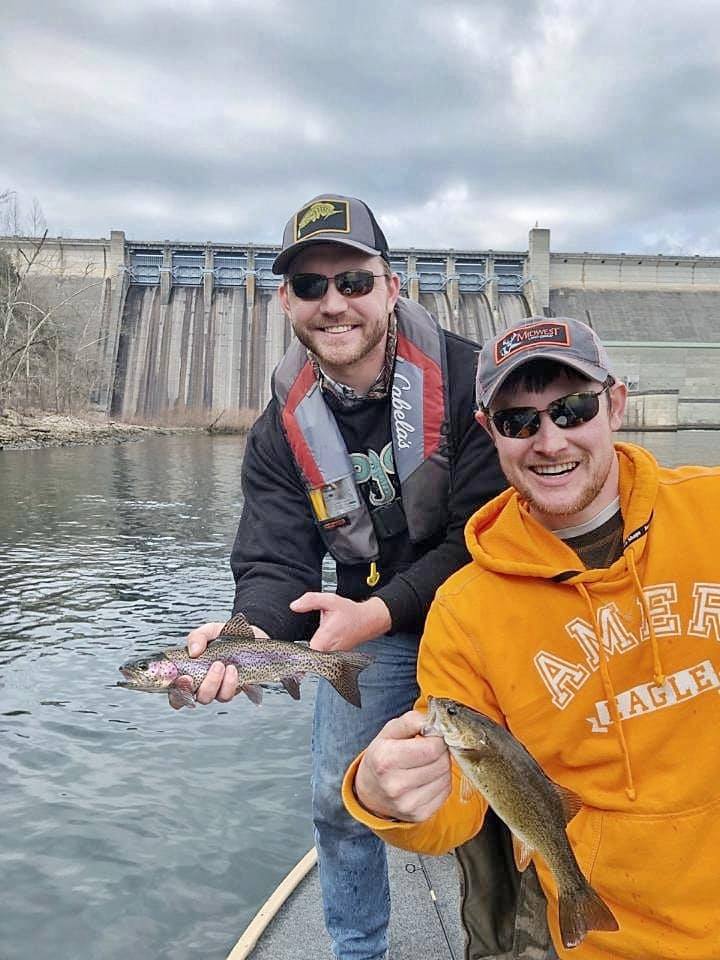 If you prefer a boat over wade fishing, the PJ's Marabou Jig (available at Lilleys' Landing) is a good choice. Try different size jig heads and colors to find what they are biting on. You typically want to use larger jig heads for fast moving water and smaller ones for slower slack water. This will adjust the speed at which the jig will fall. Trout and walleye will usually strike the jig on the fall and you'll feel the bite when you jerk your rod tip back up during the retrieve. Try different colors as well. Sculpin color variations are popular. Many times the only thing separating a five fish day from a fifty fish day is the jig color.
When water generation is high enough through Table Rock Dam, motor up to the cable and drift the boat along either shore. Usually, you'll need to keep the jig close to the bottom to get a strike.
You're guaranteed to lose a few jigs. However, the chance of putting the bait in front of a big brown/rainbow Trout, walleye, white bass, or smallmouth is worth the risk. July and August have produced 3-pound+ walleye while using this method in the Trophy Area. My smallmouth catches have typically come near the cable just up from outlet one. I've seen large schools of white bass congregate near the dam and around the section of Taneycomo known as the "Narrows" just above Fall Creek.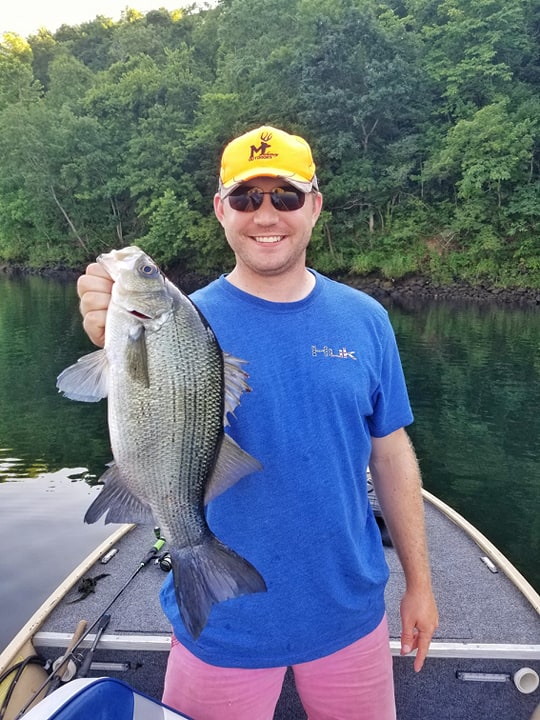 Though it is known for its trout, Lake Taneycomo has a great bass population. Try throwing a jerkbait or crankbait around the Landing. The water temperature begins to warm in that area of the lake, creating an ideal place for bass to congregate. If you walk the shore at the Landing in the summer, you can see groups of largemouth in the shallows. Be sure to cast lightly as they easily spook in the gin-clear water.
Lake Taneycomo is a dynamic fishery. From crappie and largemouth bass at the Branson Landing to smallmouth and walleye at the dam,  there are many different species in the lake and even more ways to catch them. For more information on pursuing multi-species, you can contact the experts at Lilleys' Landing. Don't be afraid to try new methods and different times of the day. You never know what you might catch!
For more articles about trout fishing, be sure to visit our trout category!
Be sure to subscribe to stay up-to-date on more great hunting and fishing info!