I had the opportunity to sit down for a Q&A with the MDC Turkey Biologist, Reina Tyl, to discuss the current state of the turkeys in Missouri. It was eye opening in many regards. I was impressed with Reina's background and credibility. She is a user of the resource just like us, something that I think many in the public oftentimes don't think is the case for some employees of the MDC. Reina spent countless days in the turkey woods this past spring chasing gobblers from Northern Missouri down to central Missouri in the Truman Lake area on both private and public land.
After our conversation, I think we are in good hands with Reina at the helm. She, too, shares many of the concerns that all of us everyday turkey hunters have. While that is disappointing in some ways, it is very good to know that she is on the same page as much of the public. Reina is extremely data driven when looking for the right answers. She and the MDC are working diligently to find solutions to the declining turkey numbers, but there are still a lot of unknowns. The MDC has several major studies underway to determine the underlying cause of our decline and what solutions might have an impactful effect at reversing the trend.
Because our conversation was so in-depth, I ultimately decided the best way to present it was in a Q&A format. Below you will find all the things we touched on, along with some interesting data she sent me that illustrates the trends they have been seeing in the turkey population. I asked a variety of questions to get to know her and then dove into asking all things turkey hunting ranging from permit sales to harvest rates to predation concerns and much more. You'll also find various Youtube videos included as well that serve as additional resources covering wild turkeys.
---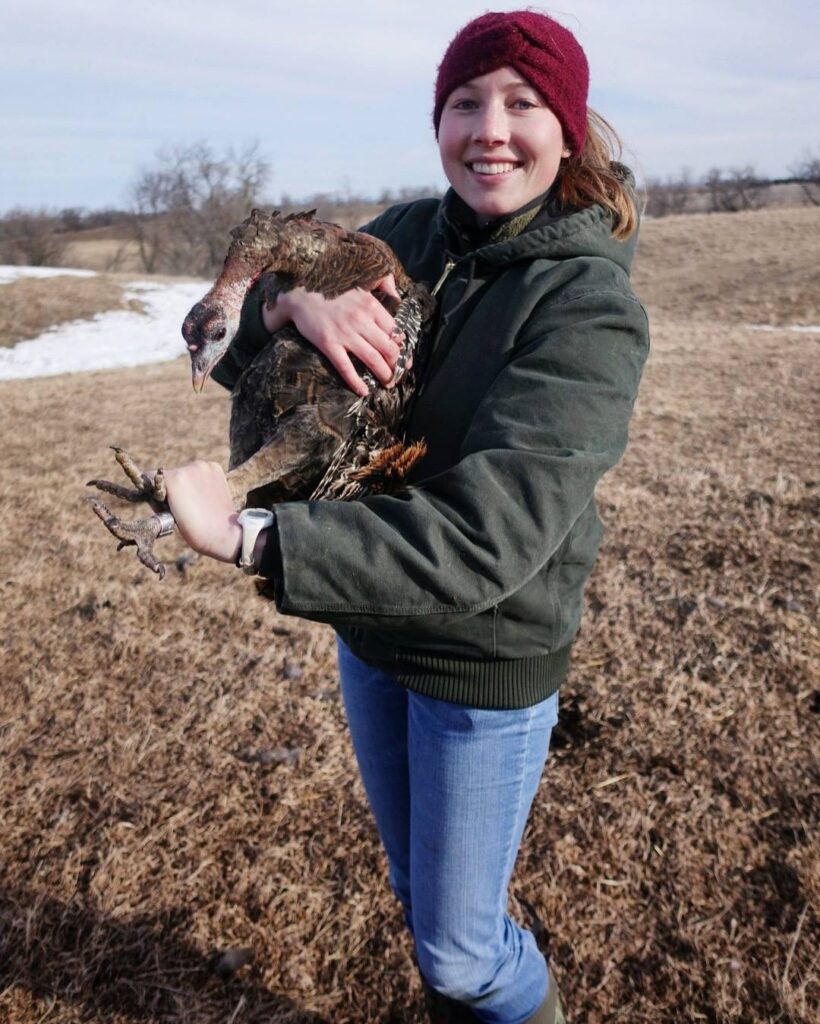 Tell me a little bit about your background and what's it been like working with the MDC?
RT: I earned a Bachelor of Science in Forestry, Fisheries, and Wildlife (specializing in Wildlife and Fisheries Sciences) from The Ohio State University in 2015 and a Master of Science in Wildlife and Fisheries Resources from West Virginia University in 2019. My Master's thesis focused on eastern wild turkey population ecology in Northeastern South Dakota, where I spent two years capturing and radio-marking a sample of 80 hens during the (very cold and snowy) South Dakota winters and spent the spring and summer tracking their survival (and causes of mortality) and reproductive attempts. This project was in cooperation with the South Dakota Game, Fish and Parks Department, so I worked closely with their staff in the northeast region. The fieldwork was conducted primarily on private lands, so a big part of the job was building relationships with landowners in the community to ensure we could conduct our research activities on their lands. I defended my thesis in April 2019 and began working for MDC as the Wild Turkey Program Leader and Ruffed Grouse Biologist in June of the same year.
Since joining the MDC, it's been good! I've been here over 2 years now and it's definitely a lot to come into especially not being in a MDC position before this. Once you're in this seat making management recommendations and fielding calls, you really learn a lot. The first couple of months was a really fast learning curve. I'm lucky that the old turkey biologist was promoted within the agency, so I'd sit down with him for long periods of time and learn from his experience.
You got to get out and do some turkey hunting yourself the past couple years. Have you hunted your whole life or is turkey hunting fairly new for you?
RT: I've fished my whole life and hunted sporadically, but turkey hunting is something that is relatively new to me. I've been here for two turkey seasons. Last year was mostly just figuring it out for Missouri and this year I hunted A LOT harder. I also wanted a variety of experiences because being in this position I think it's important to get out and see a bunch of different stuff and areas. I hunted private land far up north, hunted public and private in central MO, and hunted public land down by Truman Lake.
As far as this season goes, I definitely thought it was a challenging season to say the least. But it wasn't unexpected based on the data I had been reviewing leading up to the 2021 spring season. I thought the bird behavior was interesting though. We heard a lot of reports of turkeys gobbling on the roost, then hitting the ground and shutting up. And, that was basically the summary of my turkey season as well. I don't remember having a lot of interaction with the birds. We would hear them and that was it and then it was a game of wait for one to come in silent. In that regard, it was frustrating.
My perspective is different than most who have the good old days memories of hearing 10 or more birds in a morning. When I heard 2 or 3 closeby, I felt that was good to me to know there was some to pursue. I know some people are not content with that. I just don't know how realistic it is to ever get back to those types of experiences. But that's what we are hoping to figure out. It is interesting to hear everyone's perspectives because I've talked to other folks who hunt in other states and would hear 2 or 3 and they thought that was great.
Regarding the number of permits sold, when the MDC reports that 120,000 permits are sold for example, is that 120,000 unique individuals, or is that 60,000 unique individuals who received two tags?
RT: When we talk about permits sold, that doesn't include the no cost landowner permit. We are talking about permits that somebody had to pay to obtain. So when we talk about permit sales being down 10% from the year before, we aren't talking about landowner permits. In 2020, there were 113,649 permits sold. In 2021, there were 102,490 permits sold. Again, those don't include landowner permits. So when you look at those numbers, that means that 113,649 unique individuals bought turkey tags in 2020 for example. Since 102,490 permits were sold in 2021, that theoretically means that 204,980 turkeys could have been harvested.
We did see a big drop in landowner permits between 2019 and 2020 because of the new landowner system that was put in place. Resident landowner permits dropped from 35,879 in 2019 to 21,381 in 2020. Landowner permits are historically not a good measure of turkey hunting participation because many landowners get them, but don't use them.
Resident Permit Sales Breakdown 2016-2021
| | | | | | |
| --- | --- | --- | --- | --- | --- |
| Year | Resident Permits | Resident Youth | Resident Landowner | Total Resident | Total Resident (w/o landowner) |
| 2016 | 80,800 | 18,360 | 42,624 | 141,784 | 99,160 |
| 2017 | 75,780 | 17,283 | 41,387 | 134,450 | 93,063 |
| 2018 | 74,875 | 13,899 | 38,175 | 126,949 | 88,774 |
| 2019 | 71,491 | 13,879 | 35,879 | 121,249 | 85,370 |
| 2020 | 89,392 | 17,172 | 21,381 | 127,945 | 106,564 |
| 2021 | 78,703 | 15,120 | 22,001 | 115,724 | 93,723 |
Nonresident Permit Sales Breakdown 2016-2021
| | | | | | |
| --- | --- | --- | --- | --- | --- |
| Year | Nonresident Permits | Nonresident Youth | Nonresident Landowner | Total Nonresident | Total NR without landowner |
| 2016 | 7,491 | 831 | | 8,322 | 8,322 |
| 2017 | 7,300 | 850 | | 8,150 | 8,150 |
| 2018 | 7,555 | 722 | | 8,277 | 8,277 |
| 2019 | 7,372 | 730 | | 8,102 | 8,102 |
| 2020 | 6,124 | 961 | 233 | 7,318 | 7,085 |
| 2021 | 7,902 | 865 | 317 | 9,084 | 8,767 |
How far off were we on permit sales this year compared to 2020?
RT: Permit sales shot up roughly 20% last year in 2020 from 2019 and went down roughly 10% from 2020 to 2021. In 2020, resident sales were way up, so we had a lot more regular and youth permit sales, but our non resident permit sales were actually down because fewer people were travelling. I know this is contrary to what some believe as many comments have stated they noticed more pressure than ever. They aren't wrong about areas being pressured, it was just coming from more residents than last year than from non residents.
We didn't shut down permit sales for nonresidents in 2020 because Missouri did not have a statewide travel ban. Instead, Missouri let people make their own decisions, which is why our season was left the way it was. We did have quite a few people ask for refunds if they had bought their non resident tag but decided they did not want to travel, and I do believe we granted those refunds. Despite not limiting non resident participation, our non resident sales went down pretty significantly. A lot of folks were concerned that with us remaining open to non residents that a lot of people would come here, but that didn't end up happening.
Total Permit Sales Resident and Nonresident
| | | |
| --- | --- | --- |
| Year | Total Permits (with landowner included) | Total Permits (without landowner included) |
| 2016 | 150,106 | 107,482 |
| 2017 | 142,600 | 101,213 |
| 2018 | 135,226 | 97,051 |
| 2019 | 129,351 | 93,472 |
| 2020 | 135,263 | 113,649 |
| 2021 | 124,808 | 102,490 |
The right column in this table is what the MDC reports as "permit sales total".
One of my counterparts in another state was asking about costs of hunting in Missouri. We really are on par for cost compared to other states for nonresident tags. I think the perception that people have, especially those close to public land, is that there are more hunters now. And I think it can appear that way because there may be more people concentrated on public lands. Due to a shift toward more people living in urban areas, and urban sprawl leading to land being cut up into smaller parcels, I think it might be harder to find private land to hunt on, and to get permission to hunt that land.
What is our estimated turkey population currently?
RT: This is actually a tough question to answer. Honestly, we have significant challenges at estimating wildlife abundance on broad spatial scales because density can vary so much. What we have to do is make an assumption about harvest rate and then multiply spring harvest by our assumed harvest rate. For example, say we are removing 10% of our turkeys through harvest each spring. If we harvested 35,000 turkeys, we multiply that by 10 and we get an estimate of 350,000 turkeys for the overall population. It's a huge assumption though, so it's a very crude estimate. But we are working on developing some better population models that will provide us with a better means of estimating turkey abundance across the state.
Harvest Totals
| | | | |
| --- | --- | --- | --- |
| Year | Youth | Regular | Total |
| 2016 | 4,147 | 44,207 | 48,354 |
| 2017 | 4,060 | 39,283 | 43,343 |
| 2018 | 1,723 | 34,082 | 35,805 |
| 2019 | 2,538 | 36,265 | 38,803 |
| 2020 | 2,724 | 38,737 | 41,461 |
| 2021 | 2,795 | 31,800 | 34,595 |
Is the current state of the turkeys we are seeing now the new normal or is there any reason to believe there might be some improvement?
RT: What lead to the abundances in the early 2000s was a perfect storm of conditions. When we were doing the restoration activities, it was a time in history where we had good habitat, low predator densities, weather was better believe it or not, and just a perfect storm of great conditions, which made it possible to restore turkeys. If we had the conditions of today and we tried to restore them, who knows if it would have been nearly as successful. Eventually the conditions caught up in a negative way and we had a period of die back.
Now we have periods of good years on cycles of about every 5 to 10 years. We are seeing cycles of what is called "dampened oscillation", where the lows are lower than the previous low and the highs aren't as high as the previous high (see graph below). Overall, we have been seeing a general long time declining trend. We just can't seem to support the amount of turkeys that we could in past. The goal is to get that to stabilize. Now we have periods of good years and bad years primarily driven by production the previous year. We are seeing this pattern of dampened oscillation with turkey abundance, where the lows are lower than the previous low and the highs aren't as high as the previous high. When you look at the long-term trend, harvest and turkey abundance appear to be declining. The goal is to get that trend to stabilize.
Number of turkeys observed per 1,000 hours bowhunting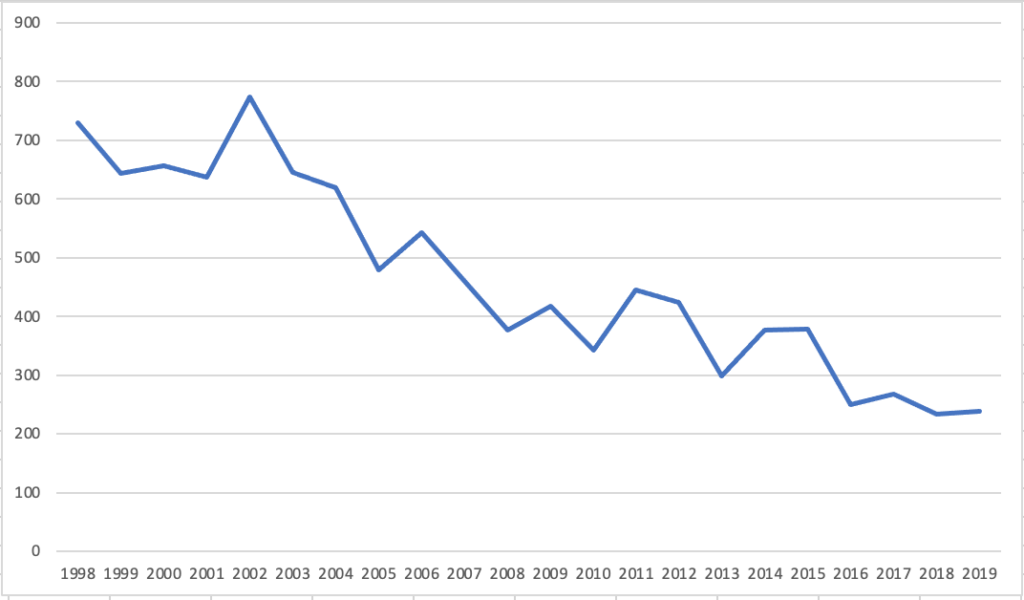 We use a bunch of different indices to track the turkey population status. The big one that we use is harvest, but there's a lot of assumptions that go into that because it's not standardized by "effort". We do use other things like hunter success and that is standardized by effort, and hunter success has been relatively stable. But when you look at our bowhunter observation survey, where they are counting turkeys per hours in the stand, we are seeing a strong decline over the last couple of decades. We are in the process of building better models that will give us higher confidence in population estimates in different regions of the state. Those will give us a better idea of abundance and we should get better estimates of mortality rates as well.
You mentioned the goal is to try and get some kind of stabilization in the population. Is there any evidence that we are stabilizing anywhere?
RT: It depends on what metric you look at. Our production has been relatively stable the last 5 years. Our productivity is stable, but at a low level. It's about a 1.0 poult per hen ratio this last year. It was 0.8 in '16 and '17. In 2020 it was 1.0. It has slightly increased when you look at it in those terms, but still low. That doesn't necessarily mean it's good, but it's not declining further.
Poult to Hen Ratio
| | |
| --- | --- |
| 2010 | 1.1 |
| 2011 | 1.7 |
| 2012 | 1.7 |
| 2013 | 1.3 |
| 2014 | 1.7 |
| 2015 | 1.5 |
| 2016 | 0.8 |
| 2017 | 0.8 |
| 2018 | 0.9 |
| 2019 | 0.9 |
| 2020 | 1.0 |
What are some of the near future priorities for the MDC to try and get things going in a positive direction?
RT: As far as things to help, we recently did research into our harvest rates. Effort and participation affect harvest. On one hand, if you have more turkeys on the landscape, you expect to harvest more turkeys. And, if you have more people trying to harvest them, you would expect to harvest more turkeys. That's why we look at things like hunter success, which are standardized by effort.
There was also a broad study between 2014-2019 that looked at male and female survival rates, reproductive rates, and harvest rates for 5 years. That study was really interesting because what it told us was that our survival rates were similar to or better than what they were several decades ago. So that told us the adult birds were surviving as good or better than they did in the 80s when the population had a really high growth rate. At the same time, our harvest rates were similar to or lower.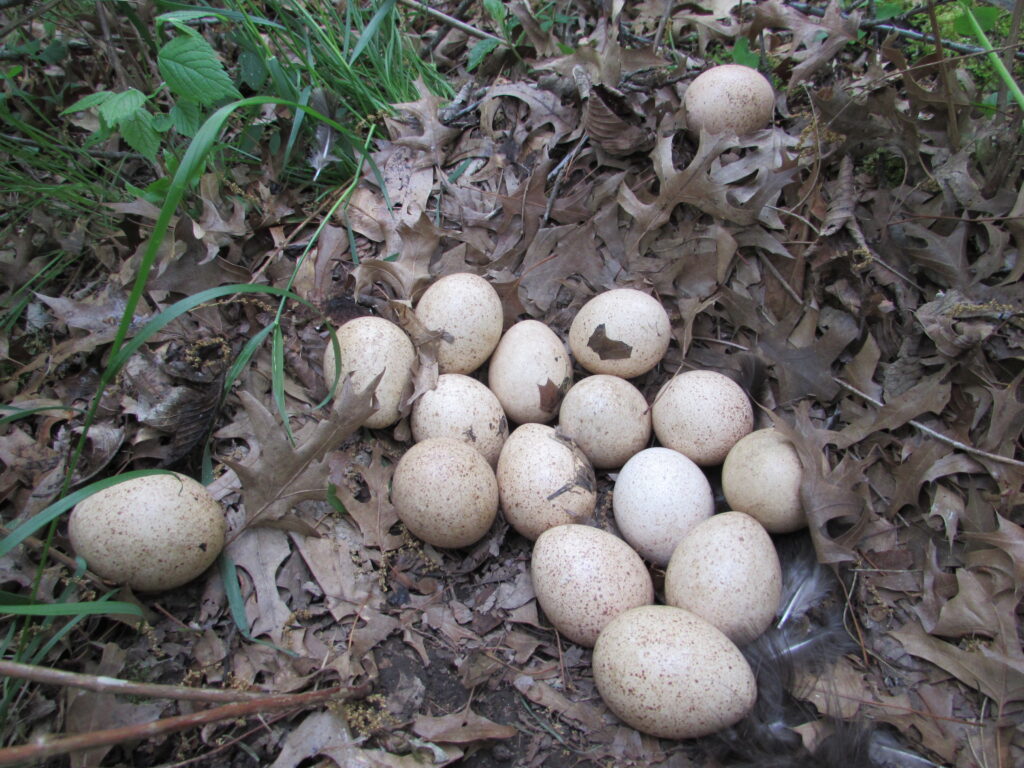 We know the main source of mortality for male turkeys is us, the hunters. But, even our hens, which have a much lower mortality rate as a result of harvest, were found to be surviving at the same rates as the hens in the 80s. However, our reproductive rates were lower and in some cases, noticeably lower. The most noticeable statistic was poult survival. Back in the 80s, it was more typical of what we expected, around 40% survival over the first month. That is considered really good actually. But in some of the years of the 2014-19 study, poult survival was only 6%. In one year of the study, it was closer to 30%, but of the 5 years on average, it was about 23% survival over the first month after hatch. So noticeably lower than in the 80s. Nest survival was lower, but not quite so dramatic.
If we aren't killing more through harvest and they are not having any differences in survival, reproduction appears to be the issue. That's what appears to be driving our lower abundance. When we look at our poult to hen ratio, it makes sense because in the 80s when the previous study was conducted, we were seeing poult to hen ratios on average of about 3 poults to 1 hen. In the 2014-19 study the poult to hen ratio averaged about 1 poult per hen. So, the poult to hen ratio was about one-third of what it was during the 1980s study. It makes sense. It's not what we want to see, but it makes sense in the context of what hunter observations are uncovering in the woods.
When the harvest was lower this year, my first thought was, "Well, that makes sense to me because the last 5 years of production was not good." You would expect turkey abundance to be lower given lower production. We also saw a 10% decline in permit sales this year. Normally, it doesn't fluctuate by more than 5% year-to-year, so 2020 and 2021 were both unique in that regard. If harvest continued to be at 40,000 or near there, that wouldn't have made sense given our historical data of success rate and permit sales. Combine that with our data that was telling us there weren't as many turkeys, and we have a reasonable expectation that this past season's harvest wasn't going to be a great one. It was unfortunate it was as slow as it turned out to be, but I wasn't expecting it to match 2020.
As far as regulation changes, are there any short term solutions that you would expect to be coming at all in the next year i.e changing any fall, spring, or general harvest regulations?
RT: We have looked into all the options, including the idea of a limited or closed fall season. I think most of our logic would conclude that if the population is declining, and you're harvesting hens in the fall, it seems logical that you might want to eliminate that. But using data that we collected in the recent study where we measured harvest, survival, and reproductive rates of hens, we had a modeling effort where we simulated how our turkey population growth rate and abundance would change if we had more conservative fall regulations. Some of the things we looked at were shortening the season, lowering bag limits, or eliminating fall season entirely. Even when we modeled the effect of completely closing the fall season, the turkey abundance didn't change substantially at all. That's because we are harvesting 1% of the hens on a statewide scale. Even if that 1% was still on the landscape, it amounts to about 2-3000 hens, which doesn't really increase overall abundance much on a statewide scale. And, some of our regions in the model still showed a continued decline even if we closed the fall season.
Additionally, up until last year where we did see an increase in our fall firearms participation, we had been seeing record low season harvest and permit sales in the fall for a long time. Interest in that season and harvest total had been in a sharp decline since the late 80s. If fewer people are participating and fewer birds are being taken and we know that harvest of those birds isn't having a major effect, why not maintain that opportunity?
100+ Flock of turkeys from a video shot near Clinton, MO in the early 2010s
I am keeping a close eye on the archery season harvest, though. We are seeing increasing participation in archery season driven by deer archery hunting. In the last two fall seasons, we've now seen our archery harvest surpass the firearms harvest. We want to make sure our archery harvest doesn't increase to an unsustainable number, but it's still relatively small from a population level. To clarify, when I say roughly 2000 hens are harvested in the fall, that is across both the fall firearms and archery season.
I think some folks see the fall season regulations and think you could harvest four hens if you wanted to, and they assume lots of folks are taking advantage of that. and that scenario may really be occurring. But, very few people fill all 4 tags – archery and firearms – in the fall. I also think there are many who believe that everyone harvests two turkeys in the spring. But that's just not the case either. Only about 5% of spring hunters fill both tags. If we dropped to a 1 bird bag limit in the spring, we wouldn't be reducing the harvest much at all.
| | | |
| --- | --- | --- |
| Year | % of hunters who filled one tag | % of hunters who filled two tags |
| 2015 | 26.79% | 5.48% |
| 2016 | 27.32% | 5.86% |
| 2017 | 26.09% | 5.43% |
| 2018 | 22.73% | 4.77% |
| 2019 | 26.14% | 5.24% |
| 2020 | 25.74% | 5.33% |
| Average | 25.80% | 5.35% |
Many of my colleagues are turkey hunters, and good turkey hunters, too. When they see their coworkers harvesting two turkeys every spring, many of them assume most people are harvesting two as well, but very few people actually do it. A lot of people get one bird and are happy with that.
The main takeaway here is that the current data shows that more conservative regulations are not going to lead to stabilization of the turkey population.
From an agency standpoint, our job is to provide opportunity within the confines of what the resource can sustain. If our data is telling us that our current regulatory structures are not contributing negatively to what we are currently seeing with turkey numbers, then there isn't currently a reason to change it. But that's why we track this stuff on an annual basis.
Some of the other things we track are things like hunter satisfaction and the harvest of jakes vs gobblers, which can give us a lot of info about the number of gobblers available for harvest. Gobbling activity is the driver of hunt quality. If we see poor hunter satisfaction rates and an age breakdown of the spring harvest that indicates we are harvesting too many young birds, that can mean there aren't enough gobblers out there for harvest. Not enough gobblers on the landscape could have implications for hunt quality and could help justify making a change to our spring regulations.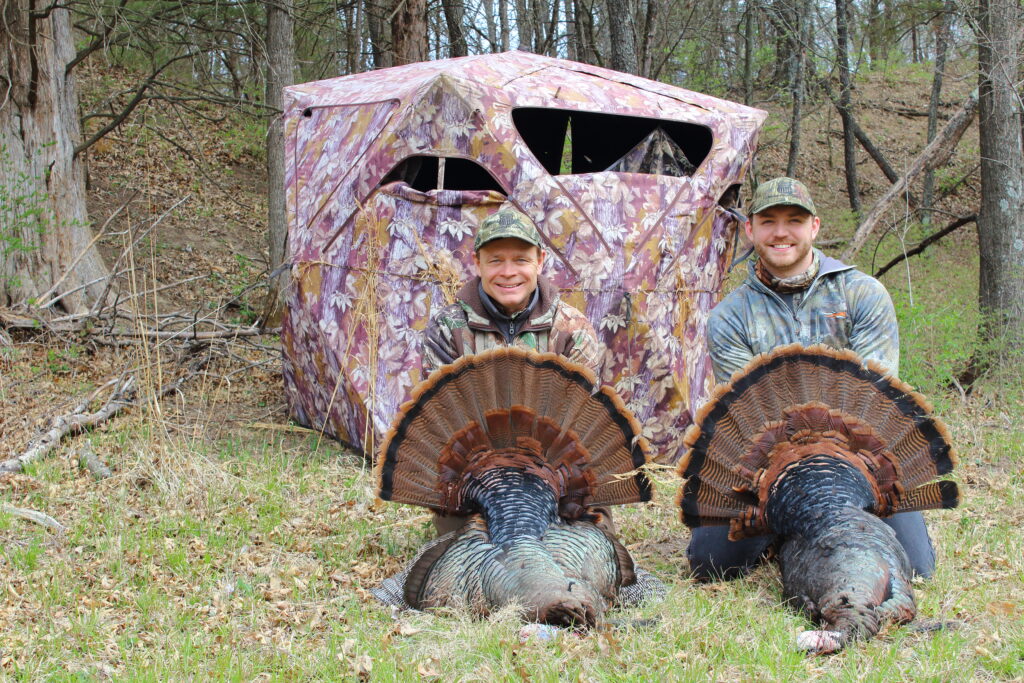 Of any changes to consider, the one that would probably make the biggest difference is the season length. However, we hear from the public that tends to be unpopular because it's already difficult for many to find time to get out and hunt. Hunters generally aren't supportive of a shorter season because it further limits their ability to get out. We hear all the time people suggesting that we just drop the bag limit. It sounds great, but as we talked about earlier, it wouldn't have a big effect on overall spring harvest.
We are working on educational materials right now that discuss what hurts turkey numbers, what will help numbers, and what won't change anything. It's really tough to communicate ideas that may seem illogical to a lot of us, but we are making a more concerted effort to communicate what we know.
Is all day hunting on the table at all given the current state of our turkeys?
RT: It's something we continue to get pushes for. We have vocal people on both sides of the issue. That hasn't gone away. There's a big concern that if you double your hunter hours that the harvest is going to increase to an unsustainable level. States that have moved from half day to all day hunting have found that's not the case, but there's a lot of fear around it. Right now, we are seeing many people who perceive that turkey abundance is already too low, so why would we liberalize the season? It's similar to the reasoning that people do not want hens to be allowed to be harvested in the fall. There's a negative perception of the idea given the perceived impacts of that activity and what we are observing with turkey numbers right now.
If it seems like no turkey regulations are going to make an immediate impact, what else can be done? Is there any thought process on the trapping side?
RT: I think anybody in the country will tell you predator numbers are up, especially in the Midwest. That is something we are evaluating. Right now, or soon, we will go through a review of our furbearer regulations. We get asked about this a lot. Landowners tell us all the time how they have done the habitat management and they trap predators within the allotted seasons but are still struggling to see positive results.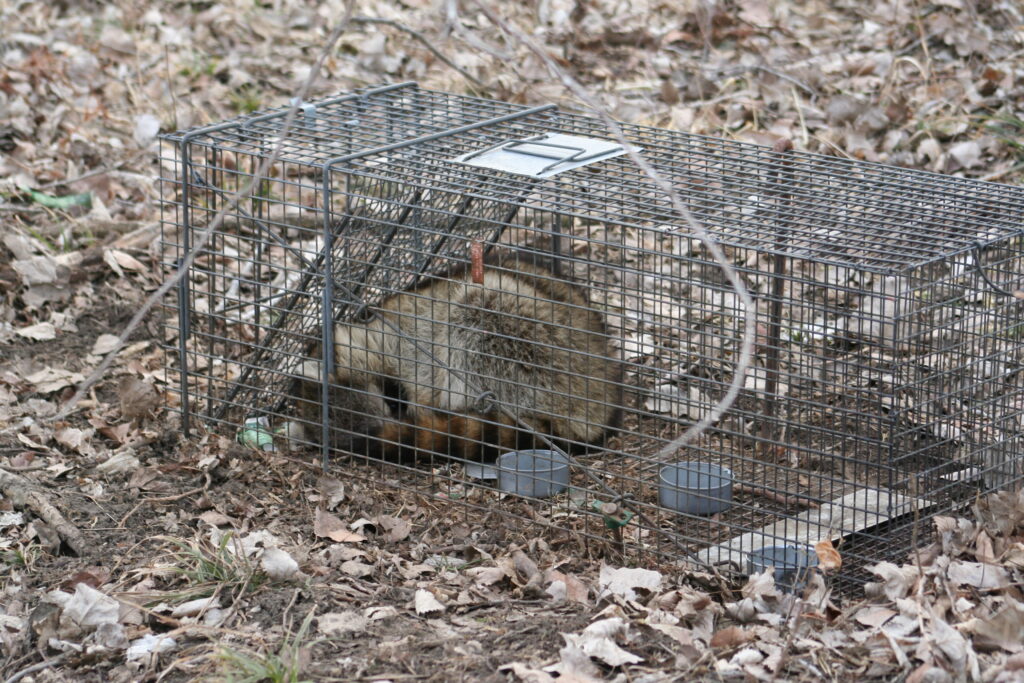 I have seen some research that shows how trapping nest predators during or right before nesting season could have a localized impact on nest success. I could see landowners wanting to implement that because we have some science that says it can be done. Is expanding trapping regulations going to increase trapping participation or reduce predator populations on a statewide scale? Not likely because trapping participation is driven primarily by the fur market. But for the landowners who have already been doing good work with habitat management and want to do anything they can to help turkeys in their area, I think they would welcome an additional tool.
There will be opportunities for the public to comment on furbearer regulation changes coming soon, and I would encourage turkey hunters and land managers who would like to see particular changes to provide input through those channels.
Ultimately, we still need to focus on creating good habitat that buffers the turkeys from bad weather and predators and provides abundant food resources. But, some sort of additional trapping opportunity could help people feel like they have at least some control over their localized area.
Let's talk about the turkey hierarchy in the springtime. There are studies that show that it could take some time for breeding to recommence if the dominant bird is killed. Would pushing the season start date back a little further towards end of April or into May be something that could be helpful so breeding isn't disrupted?
RT: When folks like Dr. Mike Chamberlain (well-known turkey biologist) and others who talk about that issue, they come from the Southeast perspective where seasons open much earlier. Our season starts after peak nest initiation. So, most hens have been bred and have started laying their eggs and incubating their nests. Because of that, our impacts here in Missouri, especially in the southern part of the state, are relatively low. Some evidence from a recent study in northern Missouri suggests that we might open a week or two too early up there based on the timing of the nest initiation during some years of that study. If new information came out that definitively said we were having negative impacts on breeding, then there would be some reason to push the season start date up north to a little later. However, then there are challenges because we typically have statewide regulations and with different openings days in different areas of the state, you'd create additional regulatory complexity. We wouldn't make that change unless we had really strong evidence from the science that our current season opener is having a serious negative impact.
---
The Hunting Public Interviews Dr. Mike Chamberlain
---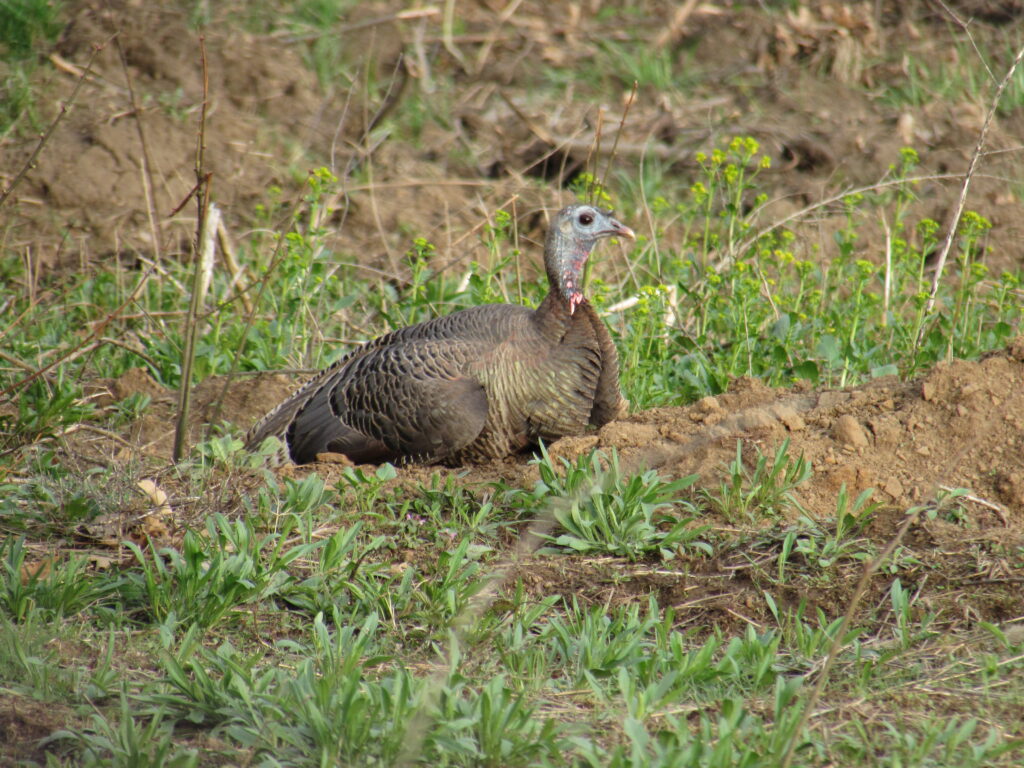 To further elaborate on the idea, essentially there is some thought that once a hen decides which tom is her guy, breeds with him and goes to nest but isn't successful, she may go back to try and find him to rebreed with him before her next attempt. So, if that guy is no longer there, she has to find another one. The question then is how long does it take to find another suitable mate?
So there is some evidence that we could be extending the length of the nesting season by causing delays in nesting through harvest of males before additional renesting attempts that would require breeding again. There are potentially some implications there. It's something being studied more recently. But right now we are sitting pretty good here in Missouri, especially compared to some other states. We definitely do not need to be opening our season any sooner anywhere, I can say that for sure.
There's a video circulating from Dr. Grant Woods that crop seed treated with neonicotinoids could potentially be having a detrimental impact on the population and reproduction. Is that something being looked at by other biologists?
RT: Yes, I've seen the video circulating and watched it. My colleagues and I had an email discussion about how we might assess the effects of neonics/other chemicals on wild turkeys. It doesn't seem like these chemicals are affecting the adult birds enough to contribute to increased mortality (since our annual survival rates are as good or better than they were several decades ago & we aren't seeing dead adult birds everywhere); however, we are wondering if these chemicals could be impacting hen health in a way that contributes to lower reproductive success. Additionally, it's possible that these chemicals are either directly impacting poult survival (ingesting chemicals = increased mortality) or indirectly impacting poult survival (more chemicals = fewer insects/poult food). We are hoping to potentially identify some of the impacts these chemicals could be having on turkey production through an ongoing research project in north Missouri.
The bottom line is that yes, this is something that quite a few of us turkey biologists are aware of, curious about, and attempting to research.
---
Conclusion
I am thankful for Reina's accessibility and her willingness to have tough conversations with the public on a matter that many of us hold very dear. After an in-depth discussion with Reina, it's good to know that the MDC is very aware of the challenges Missouri's turkeys face. The MDC is working diligently to study different factors causing the decline in the population and figuring out how to reverse it. I think Reina and the MDC are as disappointed as the rest of us at the lack of a one size fits all solution that would do the "magic trick" to get us back on track sooner rather than later. But, the work is being put in to figure out what we can do.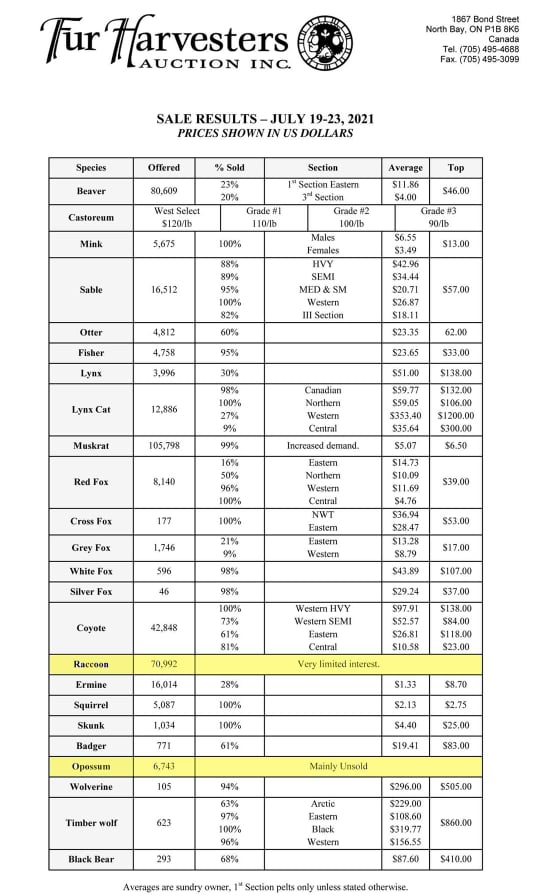 At a minimum, I think it's a no brainer to at least allow landowners to trap through the spring, if not all year round. There are states that already allow all year trapping. The fur market isn't anything where it used to be and is likely never going to return. The graphic to the left highlights recent sale results for fur and as you can see, there is so little demand for raccoons and opossums that they left the pricing blank. They no longer have value. If they have no value, the incentive to trap them is zero. What gets hurt as a result? All the ground nesting birds, like turkeys.
So, the primary motivation for trapping nest raiding and other predators should shift. Instead of trapping for "prime" fur that can be sold, trapping should be looked at more as a conservation tool to help strike the balance between predator and prey. I know from conversations with hunters all over Missouri that raccoons, opossums, coyotes, and bobcats are more prevalent than ever. They certainly are around our farm. When the ability to make public comment on trapping regulations comes up, I will be sure to share it here to make sure any of our readers are informed and able to voice support for expanded trapping regulations.
Also, I often wonder about archery methods in the fall. We now know that fall archery harvest has overtaken the fall shotgun harvest. But what is disturbing to me is all the stories I've heard from people I personally know who have hit hens and toms in the fall with an arrow, but never recovered the bird. Every turkey bowhunter seems to have one of these stories over their hunting career, if not multiple instances. Makes you wonder how much higher than the reported 2,000 number of hens are actually being eliminated each fall…
A final thought I would leave for anyone reading this comes from a friend of mine in the biology field that is also an avid Missouri turkey hunter concerned with what is happening right now. He understands the data shows there isn't a one size fits all approach to fix this. However, he is also a proponent of the concept of "marginal gains", something I wasn't familiar with, but has apparently been something widely applied in sports in the last decade. The principle is simple and states that "small incremental improvements in any process amount to a significant improvement when they are all added together".
In this discussion, we spoke about many things that would potentially offer only small improvements. But, if we aren't able to find a large scale solution soon, at what point do we just have to say, "you know what, why don't we go ahead and implement some of these regulation changes that could offer small, incremental improvements?"
With that said, it is going to take all of us to make an impact, not just the MDC. If you own land and are capable of making improvements in habitat and predator removal, that will be key in making an impact on your local level. All of us together making marginal gains could just add up to some big results.
The MDC does provide resources to help landowners improve and manage their property for wildlife and much more. You can find more information about that at this link: https://mdc.mo.gov/your-property
Other MDC Turkey Reports and Resources:
https://mdc.mo.gov/hunting-trapping/species/turkey/turkey-reports
https://mdc.mo.gov/newsroom/mdc-mythbusters-missouris-turkey-population
---
If you have any further questions about this Q&A with the MDC Turkey Biologist or about Missouri's turkeys, please be sure to send us a note at [email protected]
Thanks for reading! Be sure to subscribe for more updates as we stay in touch with Reina Tyl in the future!
Find more articles and videos at the Mahoney Outdoors Blog!