Deer season may be closed for most, but a new season is just starting: shed hunting season! Searching for shed antlers offers a fun experience for everyone and also provides valuable scouting insight for next fall.
Follow this advice and your shed hunts will be more productive. You will find more antlers and learn more about the buck movement on your property.
When to Look
Bucks drop antlers when their testosterone levels fall after the mating season, though drought or poor nutrition can also influence when bucks drop their antlers.  The more stressful external factors that exist, the quicker antlers will drop. Typically, February through March is the best time to begin looking, but it varies depending on your regional location.  Use trail cameras to help you best determine when to search.
My experience has shown that bright, sunny days make it difficult to find antlers in heavily wooded areas.  Shadows mixed with sunlight make it very difficult to distinguish what is what. My all-time best results actually come on cloudy days.  The ground is covered with consistent light, creating less strain on your eyes.  Rainy days can also be very productive because leaves become matted down from moisture. Antlers contrast well with wet leaves.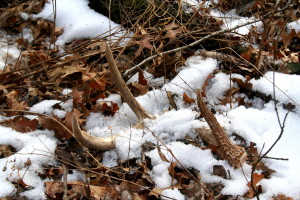 Some people enjoy searching in the snow, but my experience has shown it to be more difficult.  Most antlers will be packed beneath the snow, leaving only small lengths of antler tips available to spot.
Picture: Finding antlers is extra challenging when they are covered up by snow.
Where to Look
If you have a major food source, like a feeder or food plot, start there.  Walk in a circle around it, moving in a wider radius.  Deer also tend to navigate around field edges because they feel comfortable having wooded cover quickly available for escape.  The first 15 yards of field next to timber can be a prime location for antlers.
Bedding areas are also good places to look.  Deep timber with thick undergrowth, fields of native grass, and shallow, marshy areas are all great bedding habitat.  Antlers will be hard to spot in these areas though. If you can find transition corridors from the bedding areas to food sources, you might have a really good day of shed hunting in store.
Many landowners and conservation areas practice controlled burning of their fields each year.  Walk an area just after it is burned to have a fantastic chance of finding antlers. They contrast nicely to the blackened ground. The downside is any antler you find may be slightly charred if it was subjected to direct fire.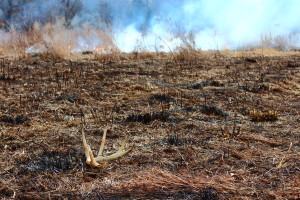 Be sure to search near obstacles that force deer to jump or quickly maneuver around. Those objects jar the antler loose. Classic examples are large logs, fence rows, and creeks.
Picture: This shed was simply resting in the middle of a large, native grass field after we burned it in late January.
General Advice
I recommend wearing safety glasses, preferably yellow-tinted.  They protect your eyes from thick brush and low hanging branches, and also help to see the ground more clearly.  Additionally, take extra care to walk slowly. It is incredibly easy to walk within feet of an antler and never see it. Bringing multiple people along helps alleviate the chance of missing sheds. Lastly, bring binoculars. They will help lessen your walking substantially.