My good friend and Mahoney Outdoors contributor, Payden Hays, and I spent some time down in Branson, MO this past weekend. It seems to have become an annual tradition to fish Lake Taneycomo at the start of the new year. While we have had some great trips in the past with dozens of fish, this time was a little slow.
We arrived to Lilley's Landing Resort and Marina mid-afternoon on Friday and prepared our gear. Since I showed up a little early, I went to the dock and made a few casts. On the very first one, I caught a small rainbow trout throwing an 1/8th oz sculpin/ginger marabou jig. While some might think that's great, there are many fishermen who agree that catching a fish on the first cast can be bad luck.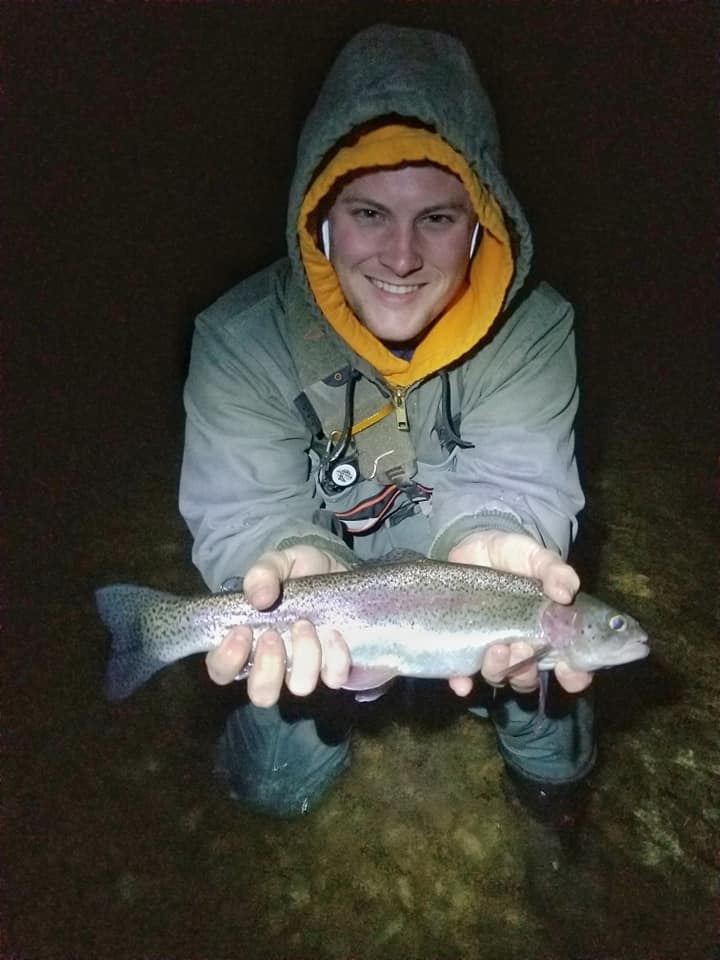 After making some big ribeye steaks for dinner, we decided to head out for some wade fishing below Table Rock Dam. We arrived a little after 10pm and fished until midnight when things started to slow. Almost immediately upon arrival, Payden had a nice rainbow on the line.
With 2 units of water, we continued with the heavier 1/8th oz sculpin and dark colored jigs and caught numerous fish, and missed several others.
One of Lilley's employees was also fishing near us and landed a really nice rainbow trout on a jerkbait.
Eventually, I switched things up and put a white/pink 1/16th oz marabou jig under a float. I used my head lamp to light the area just above the float to see. Many anglers recommend not using light, but there was so much ambient light from the dam, I don't think it caused as much of a negative effect.
I caught several more very quickly just letting the jig drift with the current, twitching it occasionally.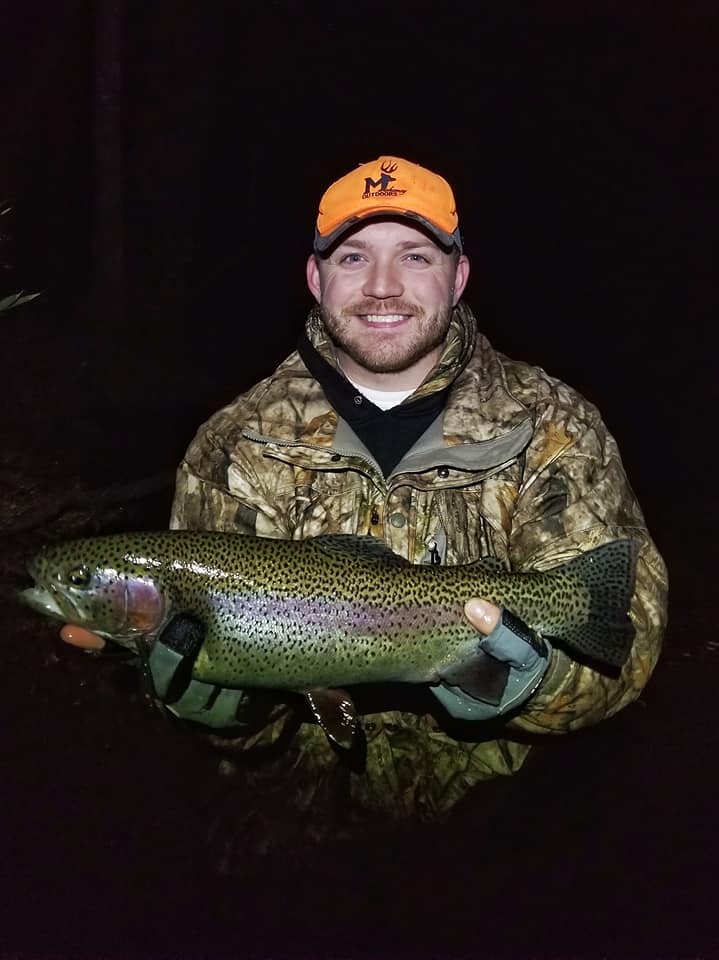 I ended up with a hard fighting, beautiful rainbow trout before we left, measuring in the 16 to 17-inch range. It was a fattie and was released unharmed like all the others.
The rest of the weekend was tough. We rented a boat all day Saturday and Sunday, spending time mostly in the trophy area down to Short Creek. The best producing bait was the marabou jigs by far, but we had to work for them. White/gray jigs were working close to the dam, but sculpin patterns worked better a little closer to Fall Creek.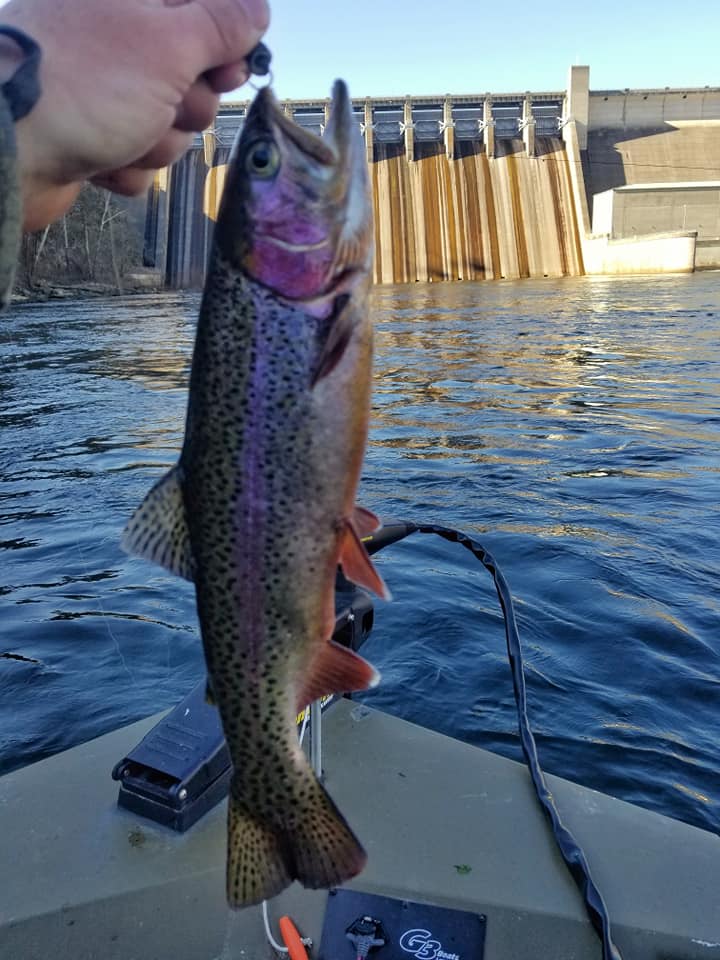 We ultimately found that simply letting our jig reach the bottom and bounce along in the current was most productive. You'll lose jigs, or at the very least some paint on the jighead, but the trout wanted the bait near the bottom. The best area for this tactic was just above and through Fall Creek in the area known as the "Narrows".
Throughout the weekend, live nightcrawlers were not effective. Small crankbaits from Duane Doty's signature series in the 2.5-inch range did produce some fish, but came at a cost. I lost both of Duane's custom painted jerkbaits. If you ever see them, you'll understand the pain of the loss.
Doty, who works at Lilley's Landing and also guides (Ozark Trout Runners), showed me a new drift rig for dragging small crankbaits behind the boat.
It's pretty simple. Attach a bell sinker to a snap swivel and slide it on your main line. Then, Attach your main line to a regular barrel swivel. Use 6 to 8-pound test as a leader from the barrel swivel to your crankbait. That allows the bait to reach the bottom and you'll feel a distinctive tick as it bounces off the rocks.
I landed several trout from Fall Creek to Short Creek on the shallow side close to the docks using this method and they hit hard like a freight train. Using crankbaits is a method that will usually catch larger fish and increase your odds at a brown trout.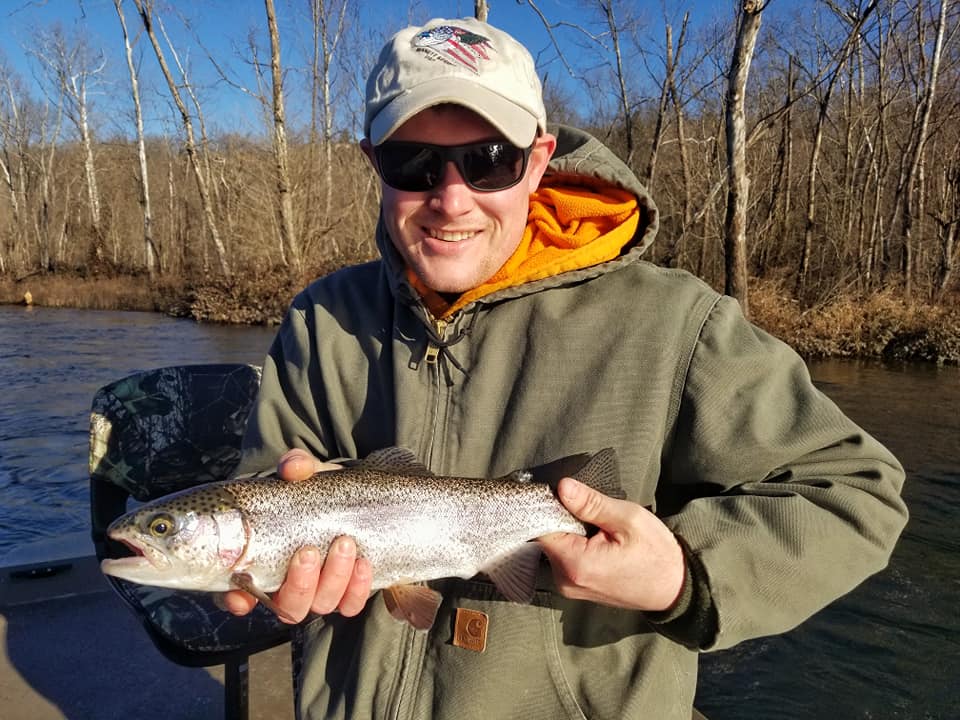 Some Takeaways
If you aren't having luck, have a system down to find a pattern. For example, start your first drift on the shallow side and then move deeper on the next drift if you don't catch any. You'll eventually locate where the trout are holding.
Don't be afraid to try something new. Marabou jigs are our go-to option, but each time I visit Taneycomo, I try to learn a new technique. There are so many different ways to catch them, and some days it's going to take some adjustment. Be sure to ask the folks at Lilley's or maybe watch some Youtube videos ahead of time to learn some new drift rigs with live bait or scud imitations.
Over the course of our trip, we caught roughly 45 rainbow trout. It seems like a lot, but in previous trips, that is pretty normal to catch in one day alone. Nonetheless, it was a great time. We learned some new techniques and explored new areas of the Lake we hadn't visited before. Give it a chance if you haven't had the opportunity. Lilley's Landing is a great resource for everything you want to know about the lake.
Find other stories on Lake Taneycomo by viewing our trout category!