Mahoney Outdoors Turkey Journal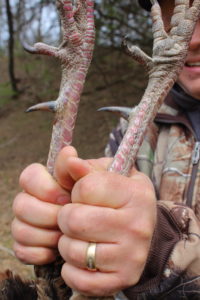 Thanks for reading the Mahoney Outdoors Turkey Journal, where you'll find notes and observations from our hunts across the Midwest. This journal entry covers the first week of Missouri's 2018 spring season.
---
April 16-17th
After a poor first two days of the season near Clinton, MO, my dad and I were already feeling defeated. (It usually takes at least a week or two for the turkeys to make us feel that humbled. Ha.) Gobbling activity was minimal and the lingering winter conditions seemed to have delayed the breeding cycle. In fact, during the first two days, we didn't hear a gobble after 7am, let alone see a bird.
Evidence of strutting was on our trail cameras, but most turkey activity was in the timber or close to it. A very experienced turkey hunter and guide, Jeff Faulkenberry, mentioned to me recently that because of the unusually cold spring, bugs and grasshoppers weren't out in the fields much yet. This has kept most turkeys in the timber where there are plenty of acorns to munch on instead. Makes perfect sense to me.
Fast forward to April 21st
After giving the woods a break for a few days, Saturday was looking much better. Instead of a 25-30 degree morning, we finally had low 40s with expected highs in the 60s. Predicted wind was at a minimum with partly cloudy conditions, creating a recipe for strong gobbling activity.
My dad set up in what we call the clubhouse field, a perennial producer of big toms, and I chose the north food plot, which ironically is farther south of the clubhouse.
The first gobble occurred at 5:57. Other gobblers awakened and soon I was encouraged by how many there were within 200-300 yards. It was night and day difference from the first two days of the season. They were fired up! Suddenly, one boomed right across from me at 50 yards. It was just getting light, but I couldn't find him. When I felt it was bright enough for him to see my decoys, I softly yelped 7 times, a series of four and three. I thought for sure he would pitch right down to the hen and half-strut jake.
At 6:17, he instead took flight above the trees, flying well over 100 yards away into the neighbor's property where there was a large field. I've seen them do this before, but it definitely didn't make it any less frustrating. He met up with several other toms that were all closing in on each other at the corner of the field. It's been a popular area for years.
They gobbled well until about 6:35 and started to slow down. I kept using the gobble call primarily, with occasional yelps mixed in. Early in the season, I've noticed that real hens will often lead toms away if they sense competition. But like all things turkey hunting, it just depends on the day and what kind of mood they're in. The gobble was getting the toms fired up so I stuck with that. 
Gobbling continued intermittently for the next 20 minutes until finally, right at 7, a tom snuck into the entrance of the field. He was moving quick to get behind my decoys, but I didn't let him get there. I dropped him within a few seconds.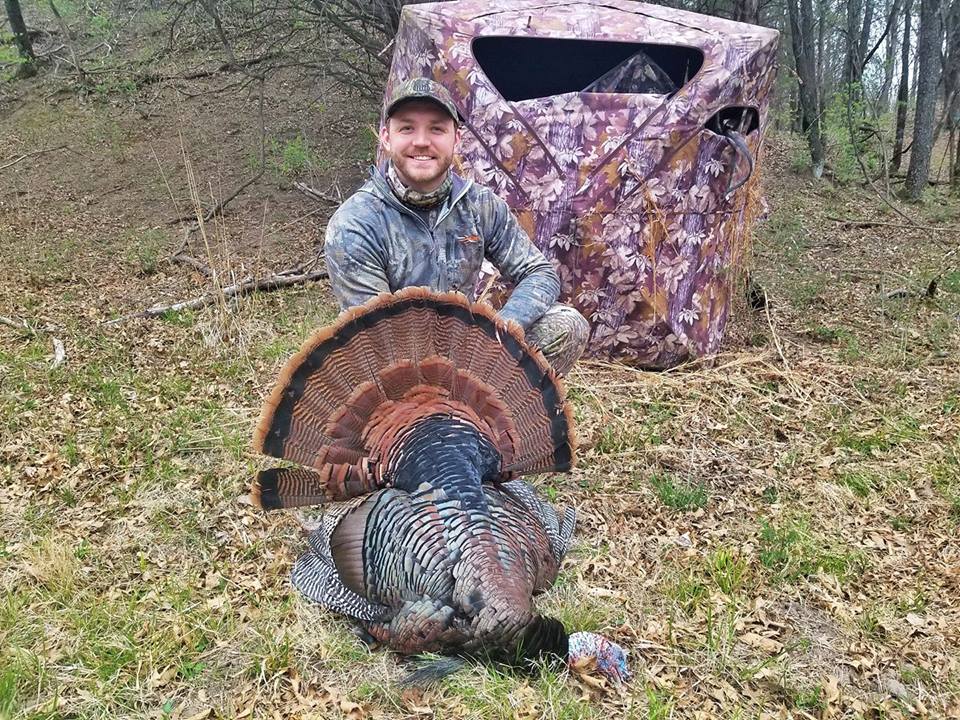 Second Shift
A friend of mine, Johnny "Dr. Duck" Everhart, is a big proponent of what he calls "the second shift". Instead of getting out before light, he likes to start around 8:30am or later, when the turkeys are typically back on the search for another hen. I like the philosophy, but am still too eager to skip any time I can be in the woods hunting…
Knowing there were other toms in the area, I remained quiet and had my dad come down to my spot. They were still gobbling nearby when I grabbed my turkey and headed for the truck while my dad took my place in the blind. A hen or two seemed to take their attention away, but around 9:30, they heated up again when my dad began gobbling with his call. Within an hour another tom came in doing the same routine. By 10:30, we had two birds out of the same blind.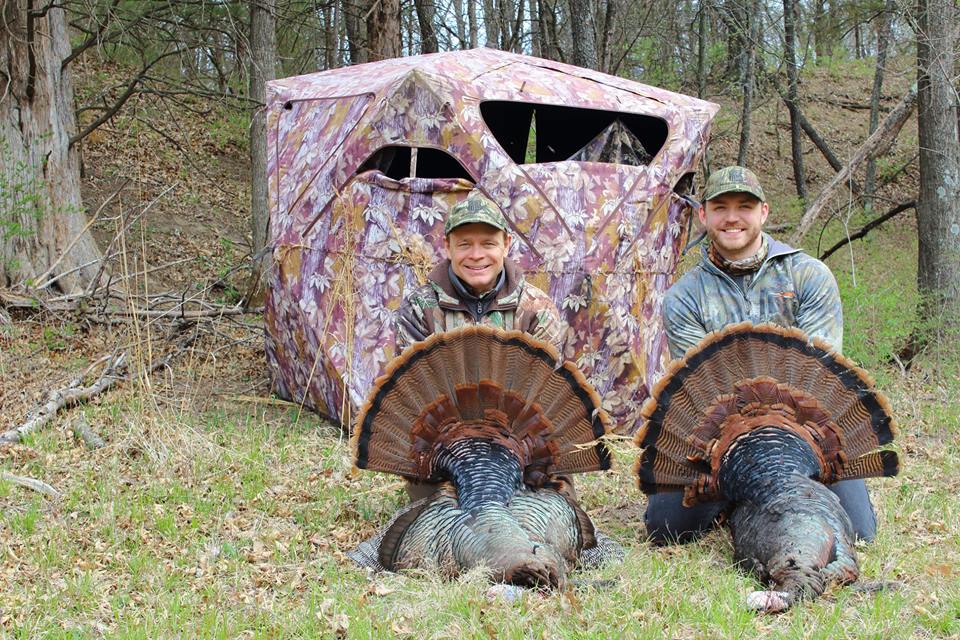 Both birds were at least three years old, and likely four. They had 1.25″ spurs and 10.5 inch beard. My bird weighed in at 23 pounds, 8 oz and his weighed 21 pounds, 12 oz. If you pull the wings out to the side, it does make your bird look more impressive in photos. You can see a good example of that with my dad's bird that looks bigger than mine in the above picture, when in reality it was almost two pounds lighter.
---
Tyler Mahoney is a Rockhurst University-educated outdoors fanatic. Some people work to make a living, but he works to support his hunting and fishing habits. Be sure to subscribe for more next-generation insight to the outdoors!